Social media. The necessary evil of the blogging world.
Here's the thing; you started blogging because you like to write.
You put it out there for the world. To make an impact and changes lives.
But then, crickets.
You fight for every single pageview. It's a constant struggle.
So, you read up on "getting more traffic" and all the signs point to social media. Pinterest, Facebook, ALL the places-- ALL the time.
And you start designing, or at least trying to design. It takes you an hour to design a pin and you end up leaving posts as "drafts" because you procrastinate making the graphics for it.
What you're doing isn't working.
I'm telling you right now, you could be getting a ton more traffic.
While pageviews aren't everything-- they aren't unimportant either. Without pageviews you will only collect pennies from your ad network and forget about the sponsored campaigns. Social media is also a major driver for sales when it's time to create products.
You could be pumping out pinterest templates like a machine. It should only take a few minutes to create a pin. I promise it's that easy.
Interested?
When I first started blogging, I decided I'd take my own pictures.
They didn't exactly teach us much about creating pins (or other social media images) in my graphic design school. I don't even think Pinterest was a thing back then!
I read that I needed social-friendly graphics to get my posts shared and to get more traffic.
Simple enough, right?
Wrong.
I was struggling to break through 1,000 monthly pageviews and ultimately gave up.
I declared about 8 months later that I would be blogging again to my very patient husband and he gave me that your-crazy-but-go-for-it look.
I started with my graphics. I invested in some stock images, did some research on design elements that work well on pinterest and gave it another go.
Within 3 months, I had reached 20k pageviews. 90% from Pinterest alone! Check out my analytics screenshot below!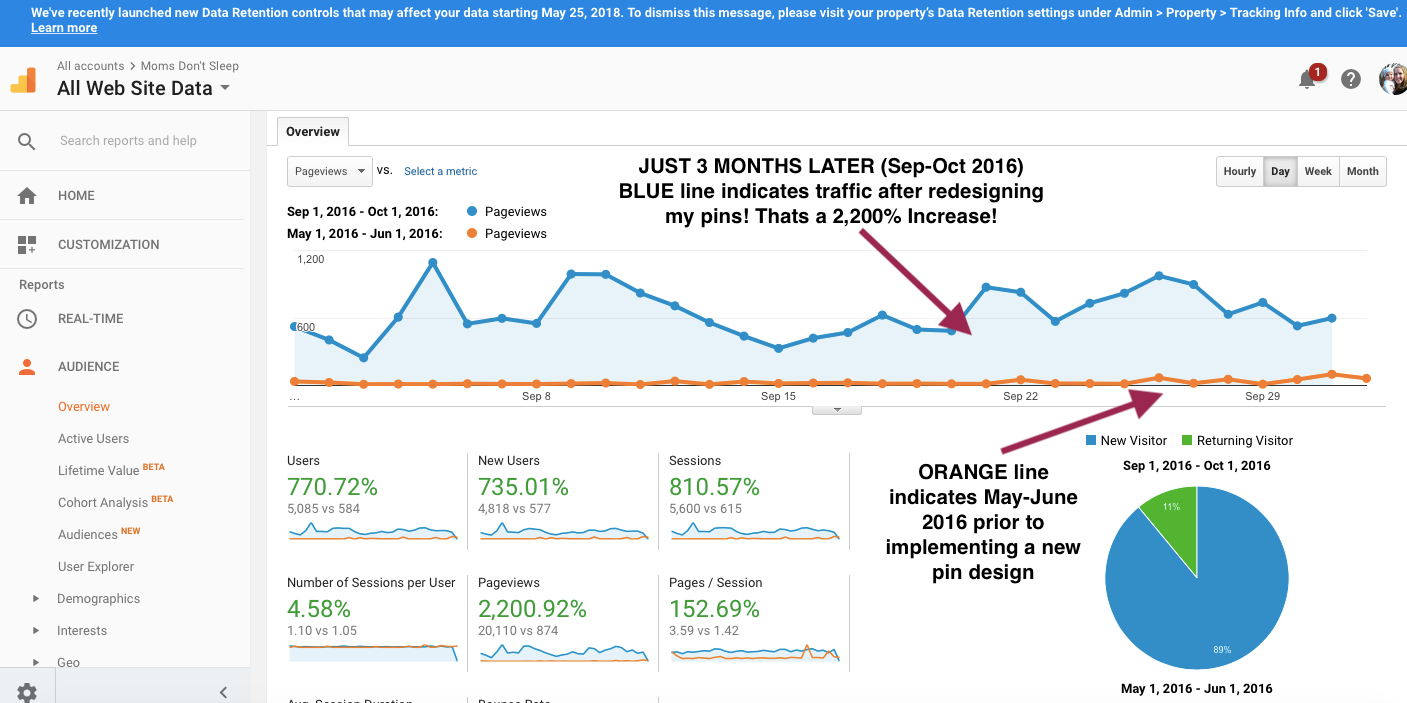 That's a 2,200% INCREASE in traffic because of my social media images!
My son started getting older, we added our daughter to our family and time management started becoming a huge struggle. Pinterest changed and required more pins to get more traffic.
Unless I wanted to pump out more content, I needed to make more pins for older posts. It became a bit of a time-suck even with my graphic design background.
So, I set up templates for my brand. Each time I needed to design a social media graphic, I pulled up the template, switched out the photo, changed up my headline and bam-- I was done.
When I started working with other bloggers, I realized they needed that same thing. They needed a template (it does save a ton of time). Most bloggers have little knowledge of graphic design. After all, that's not why they started blogging in the first place.
Providing them with a professionally designed template was the answer they craved.
Not to mention my custom branded social media templates run at $25/per template. So not only does this bundle save you a massive amount of time, but it also saves you a ton of money.
Because your getting 82 social media images. For $35 (that's $0.43 per template!)
INTRODUCING.
The Social Media Template Pack.
THE complete social media hack for creating those blog-growing-money-making graphics while keeping your sanity.
WHAT'S INSIDE:
Blog post templates: All the social media templates you need to get traffic from the top social media platforms utilized by bloggers
Header templates: Optimize your social media headers to actually GROW your blog
Ad templates: Grow your blog, grow your list, grow your income. Done and done.
The Video Tutorials: Each template set comes with a video tutorial to walk you through editing is
EXACTLY WHAT YOU'RE GETTING:
>> THE TEMPLATES INCLUDE <<
7 Pinterest Board Covers
4 Facebook live promo graphics
9 Facebook blog post images
20 Pinterest blog post images
9 Instagram graphics
9 Facebook ads
5 Facebook headers
5 Twitter covers
9 Twitter blot post images
5 Linkedin covers
All templates are designed in a variety of styles.
THE TUTORIALS:
You've got the templates. Now what? Don't worry, I'm not gonna make you figure it out for yourself
I want to show you exactly how can you make each one of these templates match your brand perfectly. Afterall, I'm a huge fan of brand cohesiveness.
So I'm going to walk you through it. Most of them are self explanatory, but others you may want that extra help with. Either way, I want you to have ALL the tools you need to make this work for you.
This is it… it's time to make this happen for you.
I'm not the only one that was able to grow my blog with templates.
Just ask, Kathryn. Who excitedly messaged me that she created a pin in just FIVE minutes using her template.
Or Linda who was able to grow her traffic significantly and create 180 additional pins for her blog posts in just a few days!
Are you ready to dive in?
Let's do this!