Attempting to design for you is like trying to stand up in a hammock without spilling your wine.
Afterall, you're a blogger. You started blogging because you like to write. Who knew you had to be a graphic designer too?
You aren't getting traffic, your list isn't growing, and you aren't even close to your income goal.
There's a piece of the puzzle that's missing. Your content rocks, but your designs don't.
People are visual. And if your promotions aren't jumping off the page and grabbing people, then you're losing money.
Here's the thing. You could be getting 500 or more subscribers per month. Minimum.
You could be hitting that crazy-to-even-think-about-it income goal.
You could be setting your business up to make money on autopilot. But you don't know where to start. You don't have the right tools.
Until now.
Interested?
When my client Jamie* came to me, she told me how frustrated she was. How much of a time-suck trying to design just one pin was.
She told me her lead magnet wasn't getting any attention, and that she was desperate to make just a few bucks. She would be happy with just covering the cost of blogging at this point.
She had big goals. Amazing goals! But I could hear the defeat in her voice. She had been working so damn hard and just not seeing her hard work pay off.
She was so passionate about those goals that the mere thought of not reaching them was making her anxious and overwhelmed. She would stare at the screen and not even know where to begin.
I'm not made for this! She declared in defeat.
My pins aren't geting me traffic, I can't figure out how to design this opt in, and the thought of designing my first project is literaly giving me heartburn.
I told her to relax because we were going to turn this around.
I showed her my templates and guys, they were a game changer for her.
There's no denying the graphics are what grabs people. They are what pulls them right into your content.
So she got to work redesigning her pins using my templates.
And guess what? She started to get noticed.
She optimized her blog so it was visually captivating. She was able to use those images to get people clicking. Not only to the beefy, heavily monetized posts, but also to her lead magnets, and her other offers.
She started pumping out lead magnets like a machine and was able to create specific content upgrades for almost all of her posts in no time at all.
She created a tripwire, then her first big product, and implemented a sales funnel that made her a passive income on autopilot.
She was finally making money.
The best part? She actually had more time to spend with her kids, and was able to slow down and really get back into the parts of blogging that she actually loved.
Except now she was making a full time income.
She hit that why-should-I-even-try-it income goal of her before the year was over.
INTRODUCING.
The Complete Template Bundle for Bloggers.
THE complete blogging hack for creating those blog-growing-money-making graphics while keeping your sanity.
WHAT'S INSIDE:
Blog templates: All the templates you need to optimize your site and bring your blog to life
Social media templates: Ads, covers, headers, promotions, and more. Gotya covered.
Lead magnet templates: Start growing that list once and for all (and nurturing them too)
Monetization: Start making money. Seriously. Tripwires, products, courses-- I've got it designed for you. Plug in your content and start making money!
Video tutorials: Step by step tutorials for each template to walk you through everything you need to know about making these work for your site
The Guide: Sure you've got the templates, but what about the strategy? Got that covered too.
EXACTLY WHAT YOU'RE GETTING:
::ALL THE TEMPLATES::
A brand board template
3 About me templates
7 Popular posts templates
14 Opt-in promo graphics
7 Blog category graphics
7 Pinterest Board Covers
4 Facebook live promo graphics
9 Facebook blog post images
20 Pinterest blog post images
9 Instagram graphics
9 Facebook ads
5 Facebook headers
5 Twitter covers
5 Linkedin covers
7 Product mockups
Holiday gift guide template (5 total pages)
Media kit with monetization package template (4 pages)
Ebook template (5 cover styles, 10 total pages)
3 Styles of slide decks (13 total slides)
14 Worksheets
10 Pages of cut out card templates
8 Chart templates
4 Calendar templates
6 Daily planning sheets
7 Checklists
4 Styles of Guide/Tutorial template (4 cover styles, 8 total pages)
6 Inspiration art templates
6 Newsletter signatures
All templates are designed in a variety of styles.
(Yep, that's 209 total pages of templates!)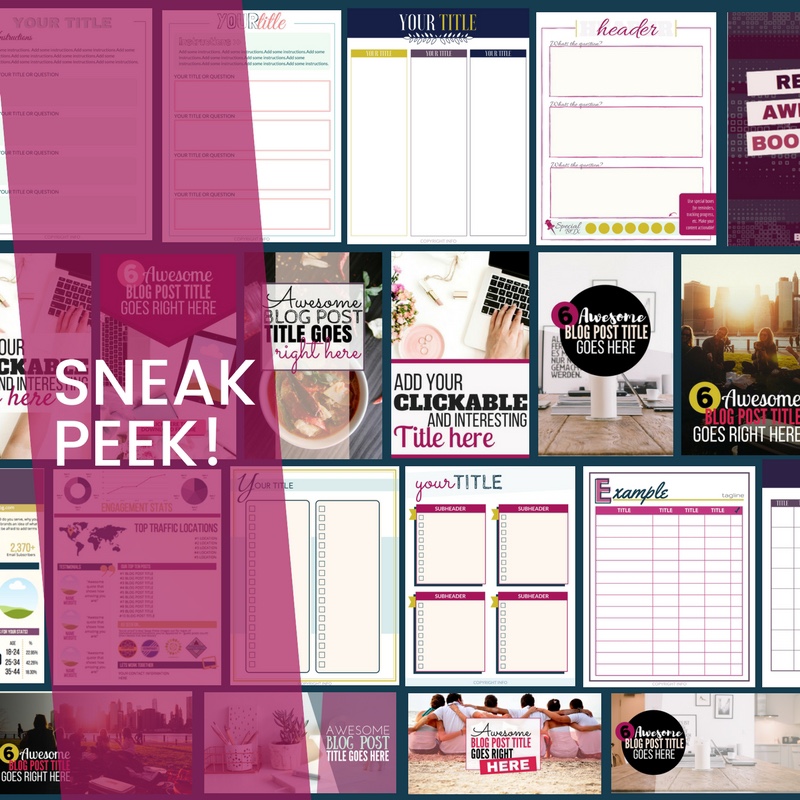 THE TUTORIALS:
You've got the templates. Now what? Don't worry, I'm not gonna drop you just like that!
I want to show you exactly how can you make each one of these templates match your brand perfectly. Afterall, I'm a huge fan of brand cohesiveness!
So I'm going to walk you through it. Most of them are self explanatory, but others you may want that extra help with. Either way, I want you to have ALL the tools you need to make this work for you.
This is it… it's time to make this happen for you.
THE GUIDE:
Sweet!
You're blog has been revitalized.
Your social media images rock.
Your lead magnet is designed, your product is created and it is stunning.
But now what? What's the strategy behind actually getting these designs to grow your blog?
How can you implement these designs in a way that is going to make you money on autopilot?
I don't expect you to figure it out for yourself. Who's got time for that?
That's like assuming you actually have time to drink your coffee while it's still hot.
Yeah right. 🤷‍♀️
Don't worry. I got you.
Jamie isn't the only one that was able to grow her blog with my templates.
Just ask, Amanda. She found that the hardest part was just starting.
Staring at that blank screen paralyzed her. Once she had the design laid out for her, she was able easily navigate the template and create beautiful products she could have only dreamed about.
Or Lizann, who felt like her weakness in design held her back from blogging. Using our templates helped her create her very first product, a deployment guide for military spouses.
And Emilie who was confident that she knew nothing about what looks good, claiming that she frequently rocks polka dots and stripes- totally unaware of the hot mess that she was sporting.
Emilie used our templates to CRUSH her rebrand. She is now completely confident with her social media images, lead magnets, and even pitching brands to monetize her blog. In fact, her words completely made my day when she said my templates were:
"The best money I'll spend on the business this year!"
So, let's do this!